LED lighting upgrade for The Forum Norwich
In June 2018 the car park was upgraded to the latest LED technology bringing immediate energy savings over the fluorescent lighting.
Opening in 2001 and with over 35,000 visitors every week The Forum is one of Norwich's most iconic venues. It was determined that the lighting in the car park should be upgraded to reflect the standing in the local community and futureproof the car park for many years to come.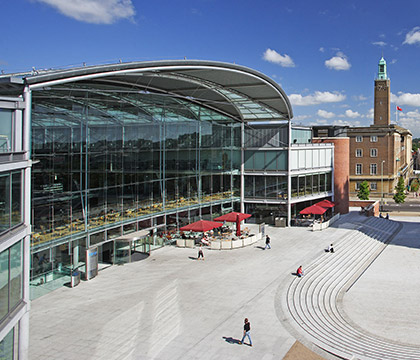 Wirefield Ltd. attended site and proposed to upgrade all fittings to LED. This would provide an initial saving of around 50%.
However, having surveyed the site and discussed options with the client, Wirefield proposed their unique Eye-Wi control system to maximise energy savings. The Eye-Wi control brought a number of benefits -
Luminaire outputs can be turned down. Upon changing to LED the car park was lit to over 500 lux – CIBSE guidelines call for less than a quarter of this
Luminaires could be installed on a one for one basis with no additional control wiring between fittings – allowing a quick installation with no client disruption
Linking the fittings together means that clients are always walking into a lit area whilst wireless control meant we could link across circuits to suit the car park layout rather than the circuit layout
Emergency fittings are self-test and report any faults back to a tablet computer – reducing engineer time on site
Following commissioning, projected energy savings are over 80%, but how was this achieved?
Luminaire outputs were reduced to 24w from a previously installed 65w
Fittings dim to 10% and bay luminaires turn off when not in use
'Police' lights stay illuminated throughout the day to always provide a lit environment
Fittings were linked in groups of 6-10 fittings, maximising savings by only illuminating areas of use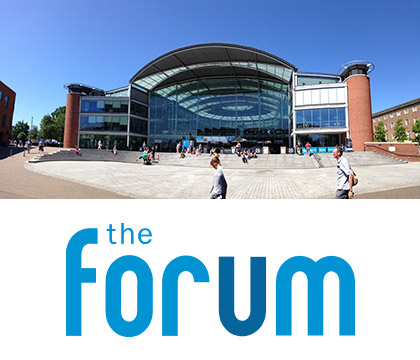 "Having researched different products on the market we are confident that the combination of the LED luminaires with the Eye-Wi control system will provide us with the maximum benefits both in terms of energy and cost savings. Our customers have already noticed a difference and we are delighted to be doing our bit to help the environment too" - The Forum
The energy savings offered at The Forum demonstrate the potential and flexibility offered when combining Wirefield LED luminaires with the unique Eye-Wi system. Speak to Wirefield today to see how we could save you energy on your next project!