Standard Features
Certified ingress protection to IP20
Supplied as standard with timed ignitor to prevent lamp cycling
Choice of metal halide, high pressure sodium, or compact fluorescent lamp included
Eye catching stylish design
Choice of either polycarbonate refractor with protective glass or aluminium reflector
Special drop down gear tray aids speedy installation and maintenance
Quality sub components for a long service life
Applications
Reception areas
Atriums
Shopping centres
Lower level commercial installations
Retail stores
Lunis IP20 Specification Guide
Q/P

SI

| Order Code | Wattage | Kg | LED Options | Eye Options | Emergency Options | Discontinued | Info |
| --- | --- | --- | --- | --- | --- | --- | --- |
| LUN70S/ALL | 1 x 70W | 6.0 | | | | | |
| LUN70S/PRIS | 1 x 70W | 6.7 | | | | | |
TC-T

| Order Code | Wattage | Kg | LED Options | Eye Options | Emergency Options | Discontinued |
| --- | --- | --- | --- | --- | --- | --- |
| LUN142PL/ALL | 1 x 42W | 5.0 | | | | |
| LUN142PL/PRIS | 1 x 42W | 5.7 | | | | |
To Order Features
(Add suffix to order code)
/FTB: Fused terminal block
/GLASS: Toughened front glass (standard with polycarbonate refractor)
Example order code:
LUN150Q/PRIS/FTB – A 150 watt metal halide mini high bay luminaire fitted with a fused terminal block, refractor, protective glass and lamp.
Note: All dimensions are in millimetres.
Lunis IP20 Dimensions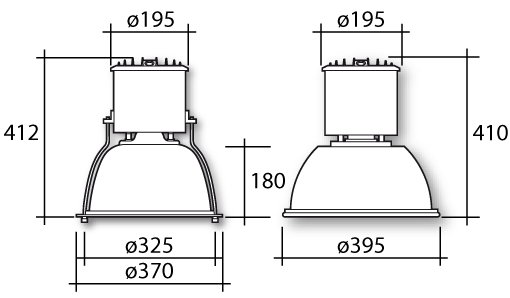 Lunis IP20 Datasheet
Lunis IP20 Photometry
Please contact us for further information regarding this product.
Lunis IP20 Accessories
Glass Front Cover
Toughened glass safety cover, standard feature with metal halide luminaires.
Wire Guard
Wire guard for improved protection against impact, may be used in combination with glass front cover.
Motorised luminaire raise and lower hoist
All Wirefield High Bay luminaires are compatible for use with our motorised hoist. This purpose made remote control hoist is ideally suited for installations with high fixing points or where re-lamping/maintenance is difficult due to restrictions in access.
Motorised luminaire raise and lower hoist Order Codes