Standard Features
6ft and 8ft single and twin options
Resilient white finish
High strength, mild steel body
High frequency control gear as standard
Gland entry points at both ends, plus on back of the body
Range of accessories available
Applications
Warehousing
Stock Rooms
Corridors
Plant Rooms
Factories
TANDEM LIGHTPACKS Specification Guide
T5

To Order Features
(Add suffix to order code)
/M3: 3hr Integrated Emergency
Example order code:
LP8/428/HF/840 – A 4 x 28 watt T5 Lightpack luminaire, HF control gear as standard and complete with lamps.
Note: All dimensions are in millimetres.
TANDEM LIGHTPACKS Dimensions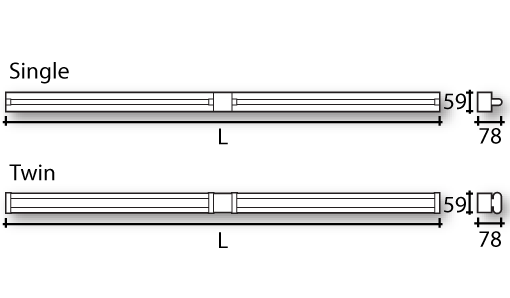 TANDEM LIGHTPACKS Datasheet
TANDEM LIGHTPACKS Photometry
Please contact us for further information regarding this product.
TANDEM LIGHTPACKS Accessories
T5 Hi Lite Aluminium Reflectors
A polished aluminium reflector developed for use with single and twin T5 Eye Pack luminaires to produce best performance in high racking situations.
T5 Hi Lite Aluminium Reflectors Order Codes