Standard Features
Polycarbonate body and diffuser with poured rubber seal
High frequency control gear as standard (lamp not supplied)
Gland entry points at both ends, plus on back of the body
Powder coated metal gear tray
One part plastic clips as standard
Applications
Food Preparation
Manufacturing Plants
Cold Stores
Atriums
Canopy Lighting
Supermarkets
Sports Facilities
COM65 T5 and T8 Specification Guide
T5

| Order Code | Wattage | L | A | W | D | C | Kg | LED Options | Eye Options | Emergency Options | Discontinued |
| --- | --- | --- | --- | --- | --- | --- | --- | --- | --- | --- | --- |
| BAS128 | 1 x 28W | 1207 | 1054 | 85 | 81 | 900 | 2.5 | | | | |
| BAS135 | 1 x 35W | 1508 | 1353 | 85 | 81 | 900 | 3.2 | | | | |
| BAS149 | 1 x 49W | 1508 | 1353 | 85 | 81 | 900 | 3.2 | | | | |
| BAS154 | 1 x 54W | 1207 | 1054 | 85 | 81 | 900 | 2.5 | | | | |
| BAS228 | 2 x 28W | 1207 | 1054 | 103 | 81 | 900 | 4.0 | | | | |
| BAS235 | 2 x 35W | 1508 | 1353 | 103 | 81 | 900 | 5.3 | | | | |
| BAS249 | 2 x 49W | 1508 | 1353 | 103 | 81 | 900 | 5.3 | | | | |
| BAS254 | 2 x 54W | 1207 | 1054 | 103 | 81 | 900 | 4.0 | | | | |
T8

| Order Code | Wattage | L | A | W | D | C | Kg | LED Options | Eye Options | Emergency Options | Discontinued |
| --- | --- | --- | --- | --- | --- | --- | --- | --- | --- | --- | --- |
| BAS136/HF | 1 x 36W | 1258 | 880 | 90 | 93 | 798 | 2.5 | | | | |
| BAS158/HF | 1 x 58W | 1561 | 1520 | 90 | 93 | 938 | 3.2 | | | | |
| BAS170/HF | 1 x 70W | 1830 | 1698 | 90 | 93 | 1016 | 3.9 | | | | |
| BAS236/HF | 2 x 36W | 1258 | 880 | 135 | 93 | 798 | 4.0 | | | | |
| BAS258/HF | 2 x 58W | 1561 | 1520 | 135 | 93 | 938 | 5.3 | | | | |
| BAS270/HF | 2 x 70W | 1830 | 1698 | 135 | 93 | 1016 | 6.8 | | | | |
To Order Features
(Add suffix to order code)
/M3: 3hr integral emergency
/SSCLIP: Stainless steel diffuser retention clips.
Example order code:
BAS249 – A 2 x 49 watt T5 corrosion resistant luminaire with polycarbonate IP65 body and poured rubber seal.
Note: All dimensions are in millimetres.
COM65 T5 and T8 Dimensions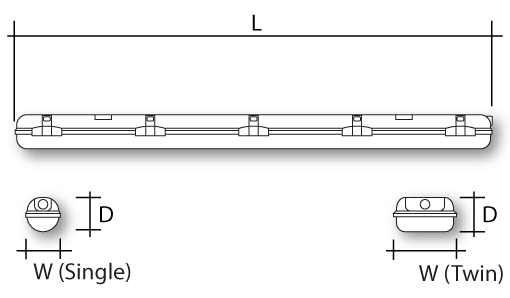 COM65 T5 and T8 Datasheet
COM65 T5 and T8 Photometry
Please contact us for further information regarding this product.
COM65 T5 and T8 Accessories